Setting up Admin Email Notifications in TotalForm#
Via email notification, get notified every time someone fills up a form.
To enable this, go through the following steps:
To enable Email Notification for a form, click on the settings of the form.
Go to Notifications (topbar) → Notify me (sidebar) & then click on enable "Send me a notification on entry reception"
Enter your email address and your email subject and body message and hit the save button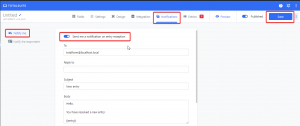 ---
Send users Email Notification with TotalForm#
Here is another kind of email notification you can send using the Email Notification feature. If you want to send your subscriber notification of what they have submitted to your form and confirm it, you can do that too using the Email Notification system.
Make sure to add an email field to your form before proceeding with this setup since it is required to get the user's email first (make it required if you do not want your users to skip this step)
Go to your form editor → Notifications (topbar) → Notify the respondent (sidebar)
 Enable "Send the respondent a notification after entry submission"
Add an email to the "To" field by selecting the field you have created in Step 1, a subject, and a body, and save everything once you're done.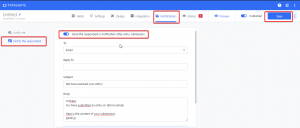 ---