In this article, you'll learn how to create a rating widget for your WordPress-powered website using TotalRating.
Glossary#
This glossary helps you grasp the creation process of a rating widget and reduce ambiguity.
| Keyword | Meaning |
| --- | --- |
| Rating | A rating is an evaluation or assessment of an entity, in terms of quality, quantity, or some combination of both. |
| Attribute | A quality of an entity that has an assessed value within a scale. For example, a 5-stars scale of product quality. |
| Entity | An entity is an object that receives a rating. For instance, a post is an entity. |
| Widget | The widget refers to a "box" where users can cast their ratings and see results. |
| Preset | A premade set of attributes serves a general purpose such as 5-stars, thumbs up/down, etc… |
Instructions#
First, we need to launch the wizard, from the bottom navigation panel, navigate to widgets:

Keyboard shortcut
You can also launch the wizard by pressing F2 on your keyboard.
Then, choose a preset from the "let's get started" box or start with an empty widget. For the sake of simplicity, the 5 Stars preset will be used in this article.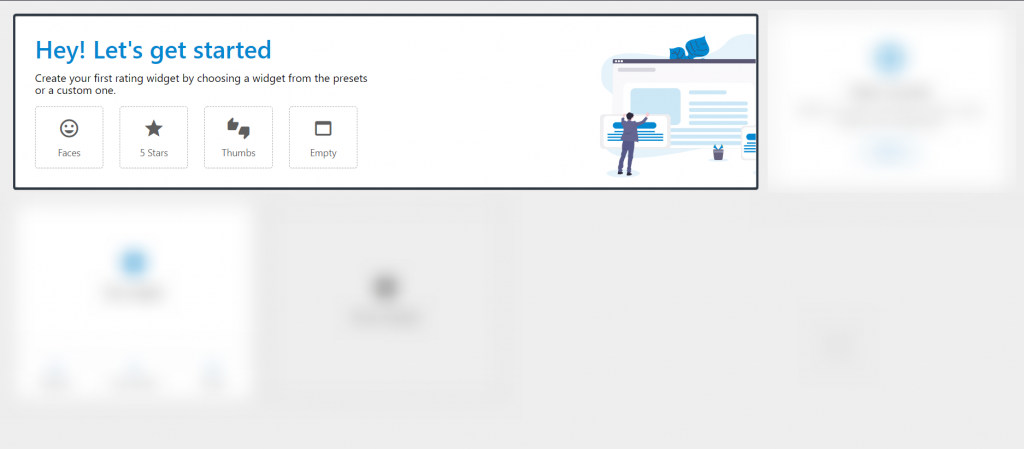 The wizard window will appear right away. The wizard consists of 3 steps that cover main widget functionality, you can configure it further after creating the widget.
---
Basics#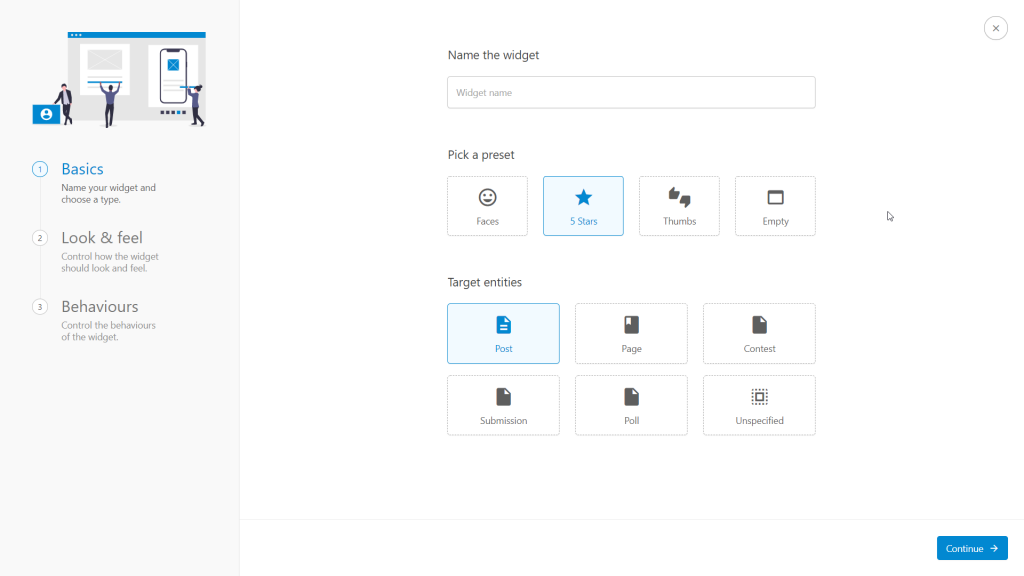 Widget name: Mainly for administrators to label and recognize widgets easily.
Preset: It's based on your previous selection, but you can easily switch to another preset if you want to change that.
Entities: You can choose what entities are linked to the rating widget, it could be a post type or unspecified if you want to integrate the widget manually later on.
---
Look & feel#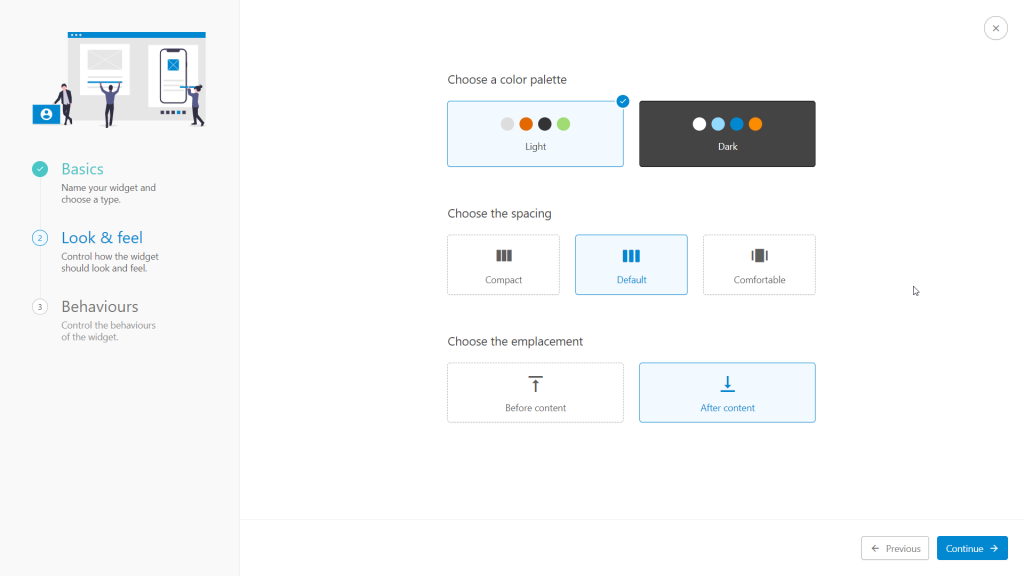 Color palette: Depending on your website design, you can either use a light palette or a dark one.
Spacing: You can adjust the spacing and choose what suits your website design.
Emplacement: Control the emplacement of the widget, whether underneath the content or above it.
---
Behaviors#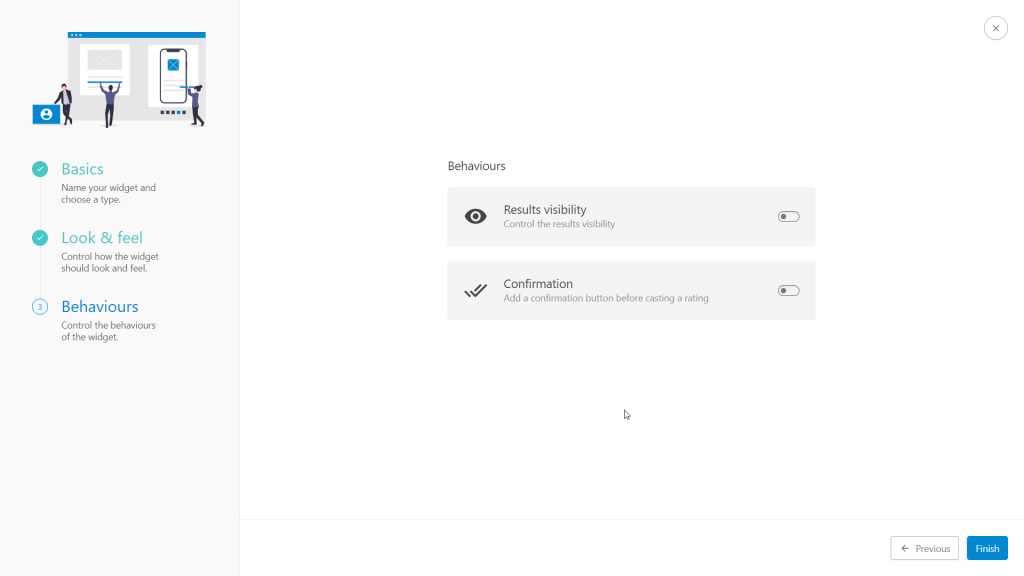 Results visibility: Control who can see results.
Confirmation: You can use this behavior to prevent accidental ratings.
---
Once you finish the configuration, click on finish, you'll be redirected to the widget editor for further configuration.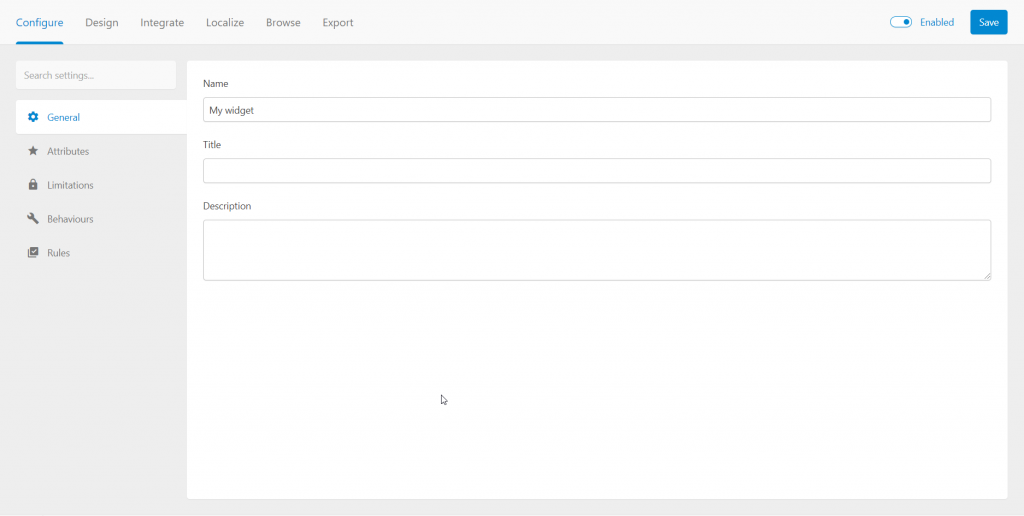 🎉 Voila! You've created your rating widget successfully.
---