How to integrate a widget
---
Rating widget integration is an important step during the widget setup, here are integration methods available in TotalRating.
Heads up!
The following steps are covering manual integration, you don't have to follow these steps If your widget is already linked to some entities because TotalRating will integrate do it automatically for you.
Instructions#
Currently, TotalRating supports 3 integration methods: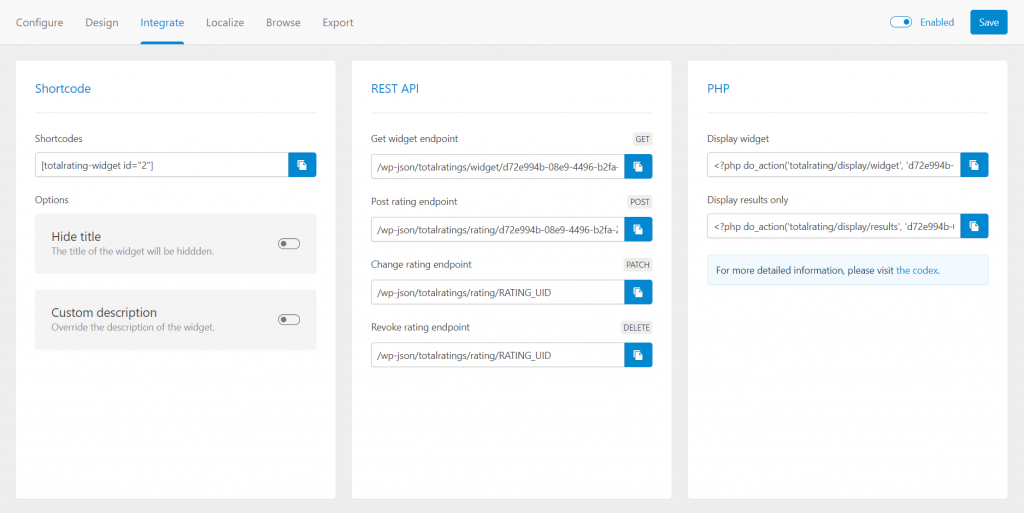 ---
Shortcode#
Shortcodes are a well-known WordPress feature and the majority of WordPress plugins supports it and TotalRating does too, you can easily integrate a rating widget by following these steps:
Copy the shortcode.
Go to a page or a post where you're willing to add the rating widget.
Past the shortcode.
Save changes.
Navigate to the page.
---
REST API#
Most developers are familiar with REST APIs and dealing with them regularly. TotalRating offers a RESTful API to let developers create custom integrations with their systems and it covers:
Rating widget retrieval.
Casting a rating.
Changing a rating.
Revoking a rating.
For more information, please visit the codex section.
---
PHP#
WordPress is built on PHP and so its themes and plugins. TotalRating offers a simple yet convenient PHP API, essentially for theme developers and custom integrations. With the PHP API you can:
Display a rating widget
Display widget results.
---