TotalPoll 4.0 is here! 🎉
After months of work, we're finally pleased to announce the new major version of TotalPoll for WordPress. This release brings many new and most-wanted features to the table like multiple questions support, revamped user interface, and much more!
In this post, we'll cover new features and improvements added in TotalPoll 4.0. For more detailed guides and features, coverage watch out the upcoming blog posts.
TotalPoll joins TotalSuite family#
TotalPoll is now a part of TotalSuite, a family of robust and reliable plugins for WordPress. There are many benefits you'll get from TotalSuite including purchases syncing, instant support, add-ons marketplace, and soon settings hosting and syncing.

Dashboard#
TotalPoll now comes with a dashboard to give you an overview of your running polls with some details like votes and entries of each one. The dashboard also provides access to some useful information like documentation, changelog, and TotalSuite account linking.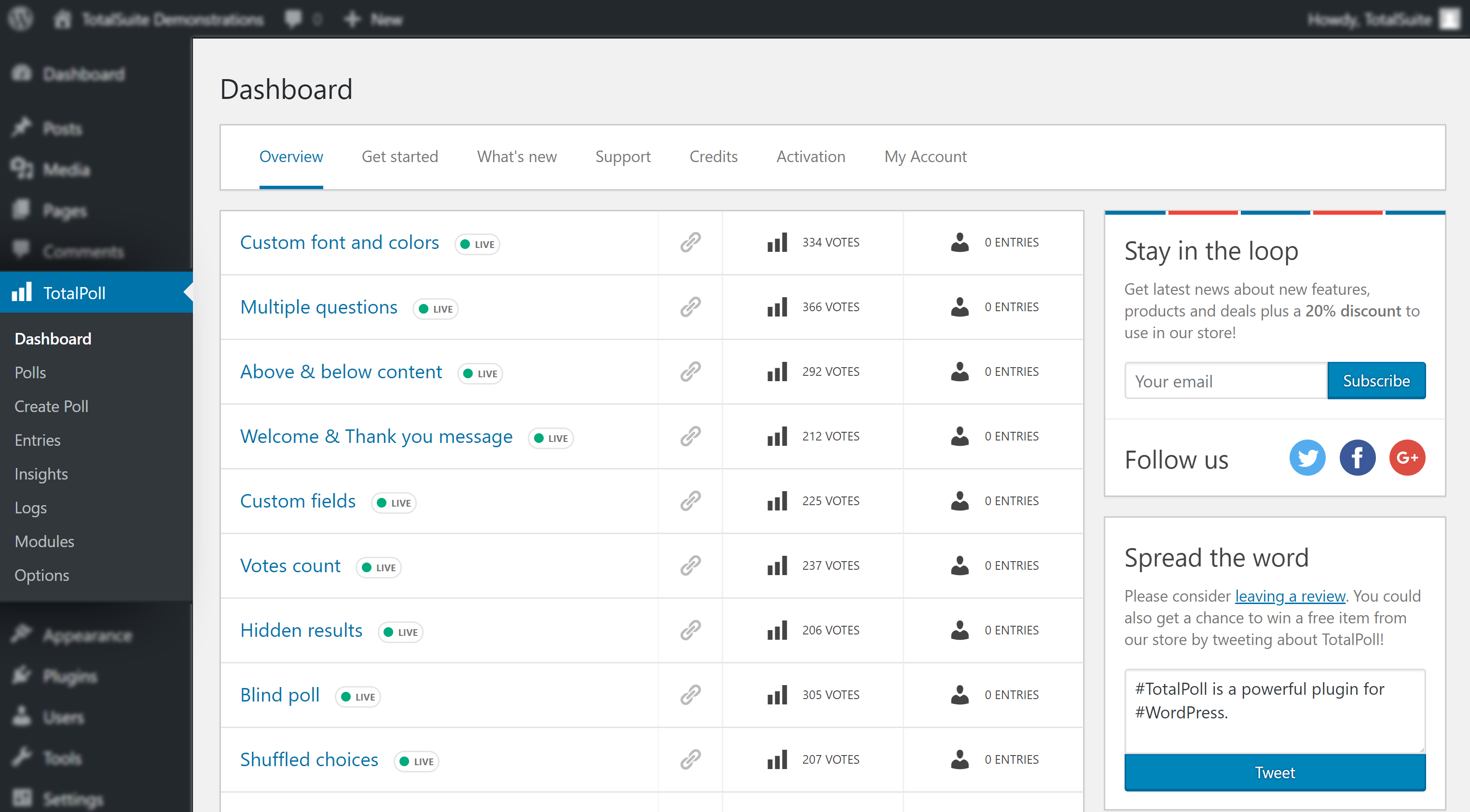 Revamped interface#
We've redesigned the user interface to facilitate polls creation without compromising the ability to control every aspect of the poll when needed. This was a hard task but we still improving it through feedback we receive from you. The new user interface is seamlessly integrated with WordPress.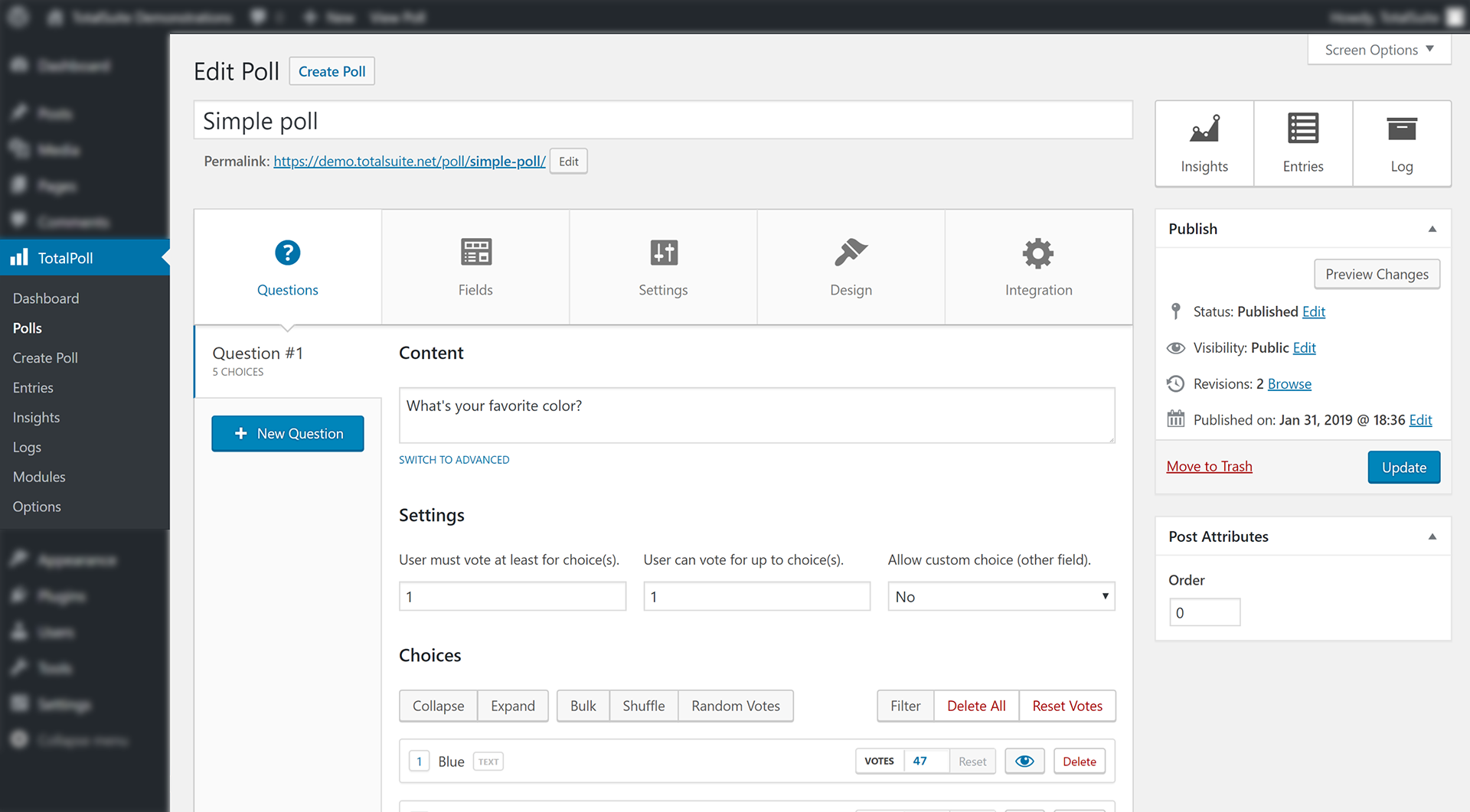 Multiple questions support#
Finally, it's here! TotalPoll now supports multiple questions and choices. Every question now has its own content, settings, and choices just as illustrated below.
Design customizer / Live preview#
Customizing poll's design is now much simple and thanks to live preview feature, any changes you make will be reflected instantly, just like WordPress Customizer experience. For advanced customization, you can inject custom CSS and even control some behaviors like AJAX and One-click vote.
Multilingual support built-in#
TotalPoll is shipped with two internationalization-related features: Built-in poll translator and expressions overriding. The former feature allows you to have a poll with multiple languages without the need to create a copy of the poll for every language while the later one lets you override some expressions such as buttons, labels, and error messages. Note that TotalPoll is compatible with popular multilingual plugins such WPML and Polylang.
Better integration#
Poll integration is a crucial part of every website and that's why we put a lot of time into making it simple and effective. TotalPoll now supports 6 methods of integration: shortcode, widget, direct link, embed, email, and REST API.
Modules system#
The new modules system (add-ons) was designed to take TotalPoll to the next level. Developers now can extend the functionality and appearance of TotalPoll through extensions and templates. Also, you can install new extensions and templates directly from the modules manager.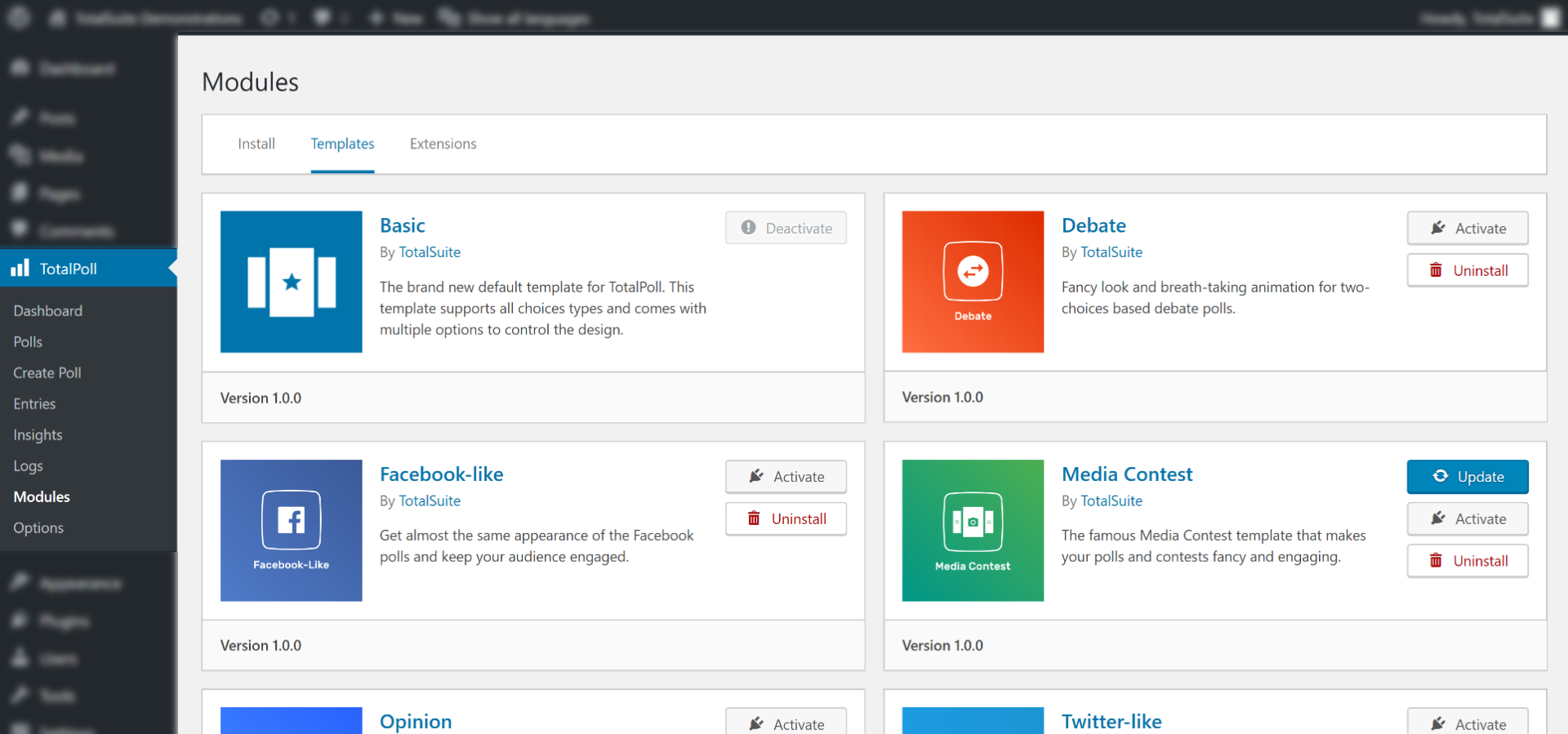 Options page#
Some big improvements were been applied to options page like auto-saving, better control of performance, notifications, and much more.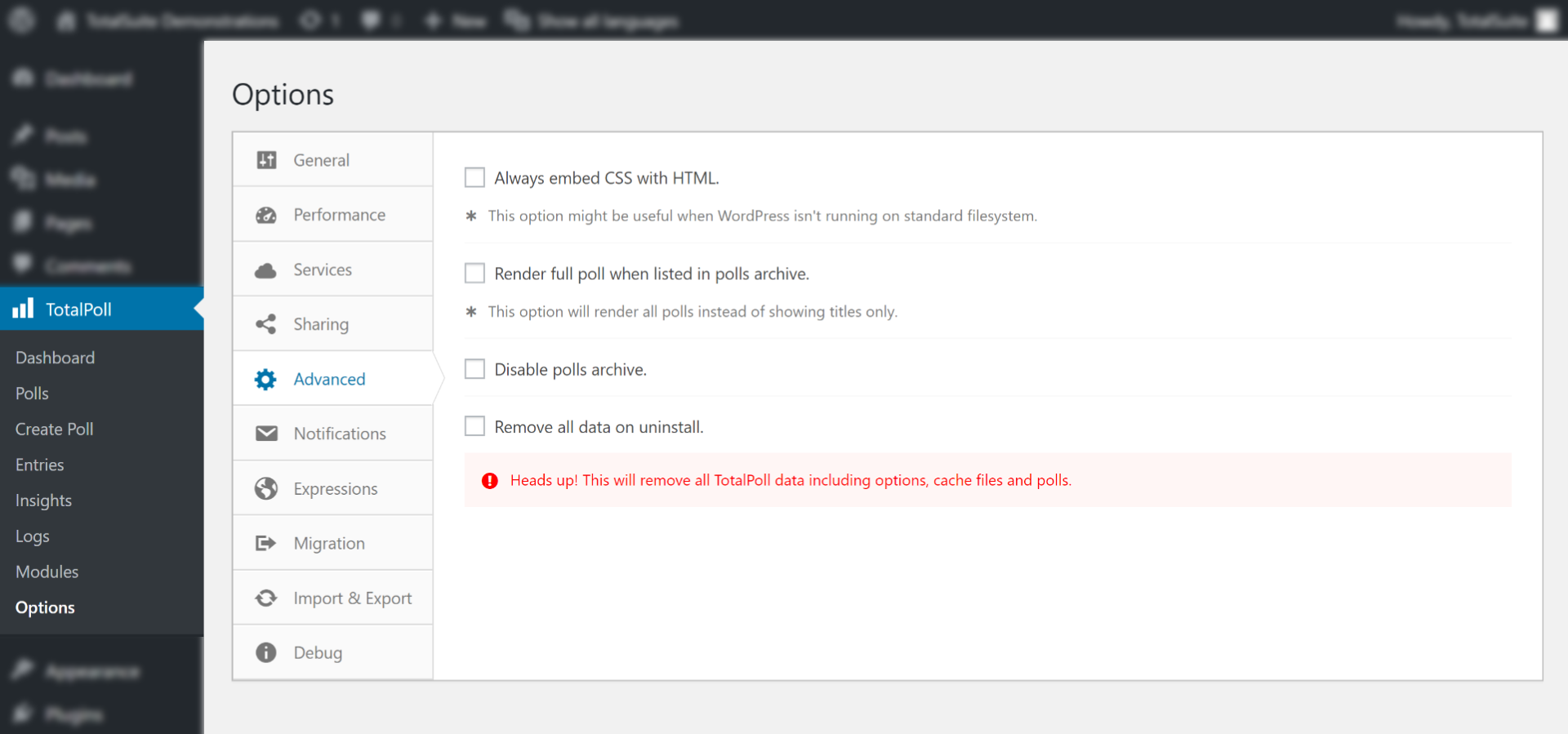 REST API#
Explore and interact with your polls through WordPress REST API, this feature is very useful for developers or users who are looking for advanced implementations of their polls, such as displaying a poll inside a mobile app, link it with another system and other.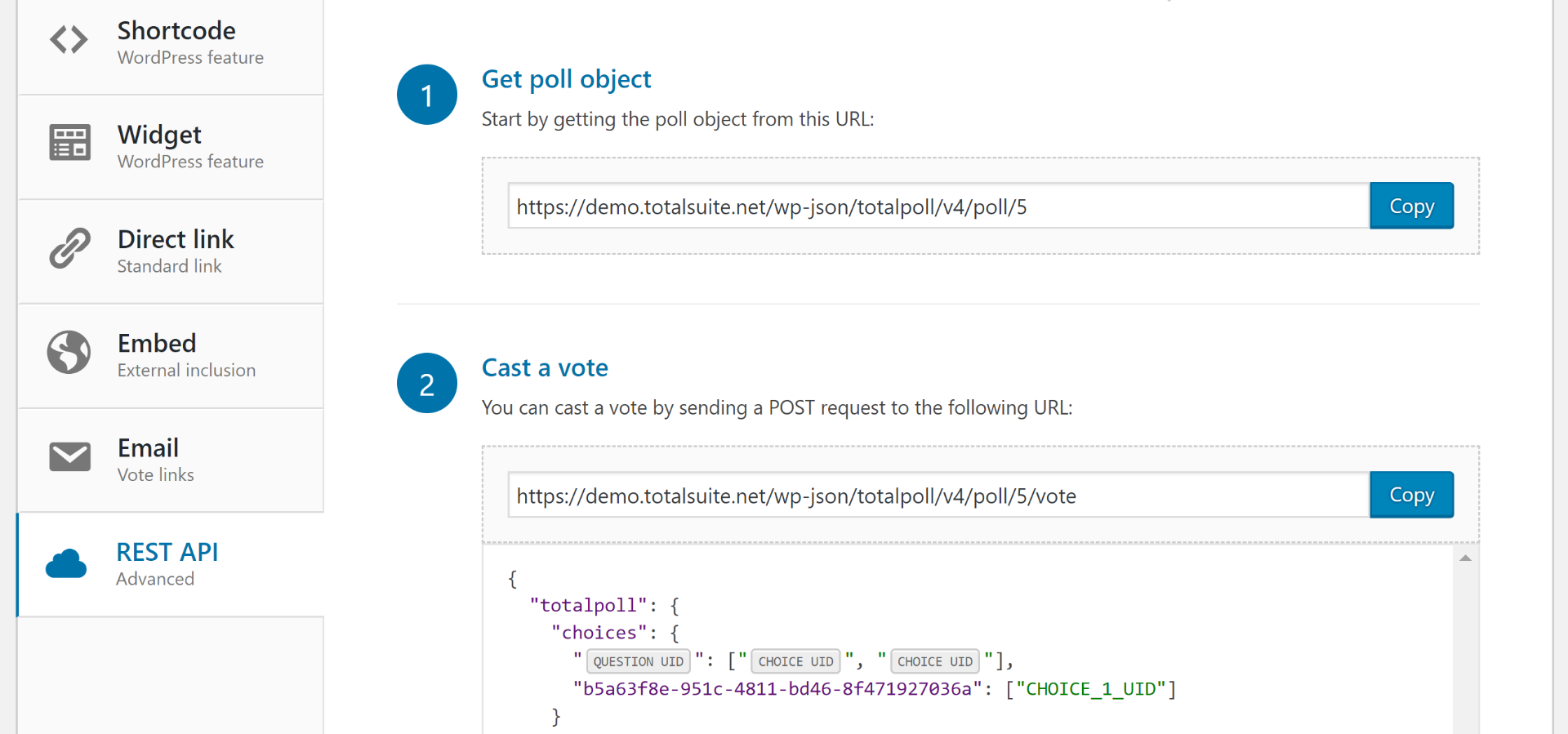 We would like to thank all beta testers that worked with us to fix bugs and improve the overall experience. Please feel free to join the community and start contributing by reporting a bug you encountered or filling a feature request.
Stay tuned, the upcoming blog posts will cover new features of TotalPoll in depth.