Create Embedded Email Surveys, Polls & Votings for your Email Subscribers
Are you tired of losing your audience's interest when running polls via email? It's frustrating, right?
You put in the effort to create engaging surveys, votings and questionnaires, only to see your subscribers bounce off when they're redirected to an external page.
But what if I told you there's a hidden feature in TotalPoll that can change the game?
Introducing TotalPoll: The Ultimate Polling Solution#
Let me introduce you to TotalPoll, the polling solution. In case you're not familiar with it yet, TotalPoll is a WordPress plugin that allows you to easily create captivating and interactive polls, votings, contests and surveys. Whether you have a blog, a store or a corporate website TotalPoll is the go to tool for engaging your audience, gaining valuable insights and making data driven decisions.
Now you might be wondering what makes TotalPoll stand out among other poll plugins, Well, let me show you some of the reasons that makes it one of the best wordpress poll plugins:
User Friendly Experience: TotalPolls interface is designed to be easy to use making it a breeze to create and manage polls for those with limited technical knowledge.
Customization Options: You can customize your polls to match your brands style and seamlessly integrate them into your website using TotalPolls versatile customization features.
Detailed Analytics: Gain insights into your poll results with comprehensive analytics allowing you to better understand your audience and refine your strategies.
Real Time Updates: Stay informed and responsive to your audiences preferences with real time updates on votes and engagement.
Looking forward to giving TotalPoll a try? You can easily download the version directly from your WordPress dashboard or simply get it here. Follow our tutorial, for installation and usage. Take advantage of all the features and more with the free version. If you're interested in more functionalities have a look, at the Pro and Business versions. Need any assistance? Our support team is always available to help you out!
Now that you have an understanding of TotalPoll you may be curious, about the importance of email polls and how they can benefit your business. Let's delve into this topic to understand the significance of email polls and how they can enhance your business strategies.
Why Email Polls Are Important?#
Email marketing continues to be one of the most effective ways to connect with your audience and build meaningful relationships. By using email polls you have an opportunity to directly engage with your subscribers, gain insights into their needs and keep them engaged in your content and offerings.
However traditional email polls often face a drawback, when subscribers click on a poll link they are taken to an external page which can lead to a decrease in engagement and conversion rates..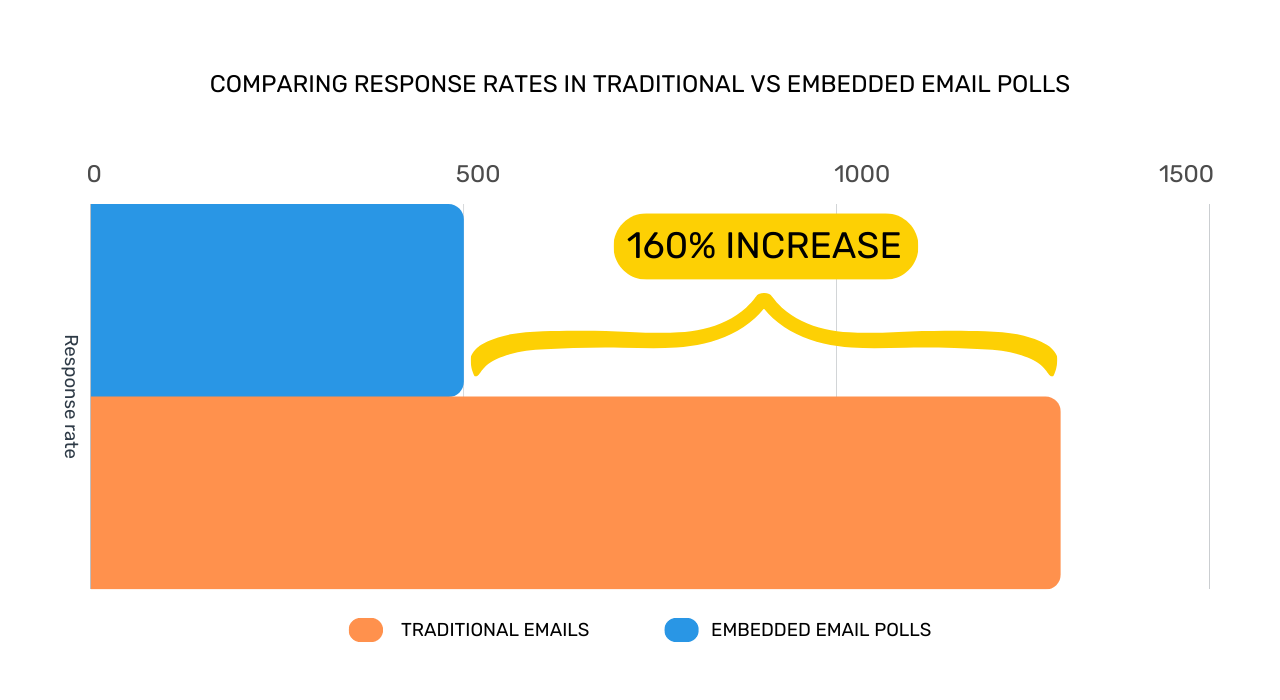 Worry not! TotalPoll offers the solution for this issue!
TotalPolls Email Poll & Voting Integration#
Imagine this, You send out an email to your subscribers containing a poll question or a survey or even a contest, and they can conveniently cast their answers right from their email inbox.
No frustrating redirects or missed opportunities for engagement, just seamless voting within the email itself.
Sounds incredible doesn't it? Well it's absolutely possible!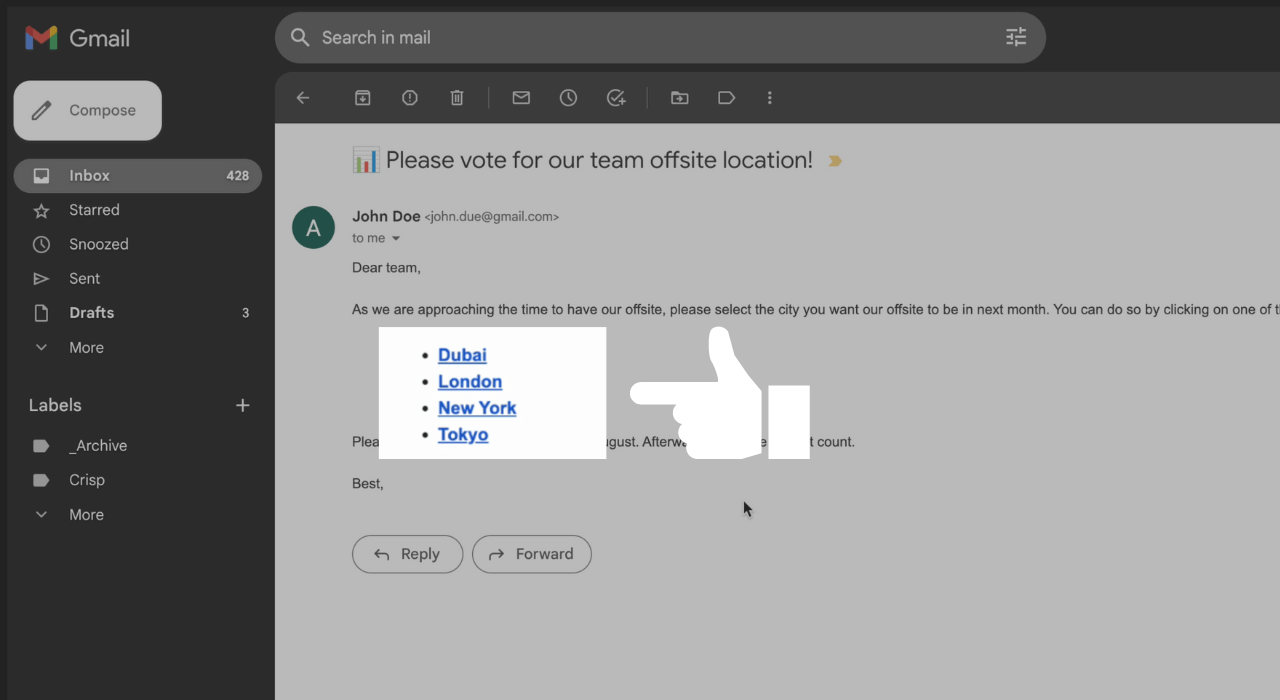 Imagine all the opportunities this feature can unlock for your business! First and foremost it provides a chance to truly comprehend your audience. Curious, about how? Continue reading to discover!
Understanding Your Audience Like Never Before#
Running polls through your email newsletters is the best way to gather valuable insights from your subscribers. Learning about their preferences, interests and challenges is like finding a treasure trove of information for any business. However when subscribers drop off due to redirects the reliability of your data suffers and you lose out on crucial insights.
TotalPolls Email Poll & Voting feature solves that problem by empowering you to make informed decisions with confidence.
TotalPoll also offers statistics that allow you to visually analyze your audiences responses enabling you to easily identify trends, patterns and gain valuable insights, from the collected data. Discover hidden information. So you can easily  have a better understanding of your audience!
It sounds interesting doesn't it? Well let's delve into it and witness this feature in action. Continue reading to discover how it operates.
How Does It Work? A Simple Guide#
No need to worry about complexities or elaborate procedures. With TotalPolls Email Poll & Voting feature setting up your polls is as easy, as 1 2 3:
Compose your email using any service, whether it's Gmail, Outlook or any other platform you prefer.
Create your poll question and options, keep it straightforward or get creative with an appealing design. The choice is yours.
Include the voting links for each option directly in the email without any redirects or complications.
To fully utilize the capabilities of this feature I recommend visiting our detailed documentation page. It provides a guide that includes step by step instructions on how to activate and unleash the complete potential of setting votings and polls directly from email.
The Freedom to Choose and Customize#
Concerned about compatibility with your email service or your design preferences?
No need to worry! With TotalPoll you have the freedom to select any email service you prefer and personalize your email templates to suit your taste. So whether you have an eye for design or prefer a minimalistic approach your polls will look amazing.
But that's not all! You have the option to create polls that will captivate your audience. There is a wide range of choices available, including captivating video contests, engaging image contests, thought provoking debates and even polls that display results in the form of bar charts, pie charts or doughnut charts. TotalPoll offers various options to meet your needs and keep your audience engaged.
Take a look at the demos gallery to explore all the possibilities and find inspiration from the different types of polls available. With TotalPoll, there are no limitations when it comes to engaging your audience and making data driven decisions.
Real Time Votes, Genuine Results!#
Once you hit that send button get ready for real time votes pouring into your TotalPoll poll. No delays, no uncertainty. Up to the minute data to guide your decisions and stimulate meaningful engagement with your audience.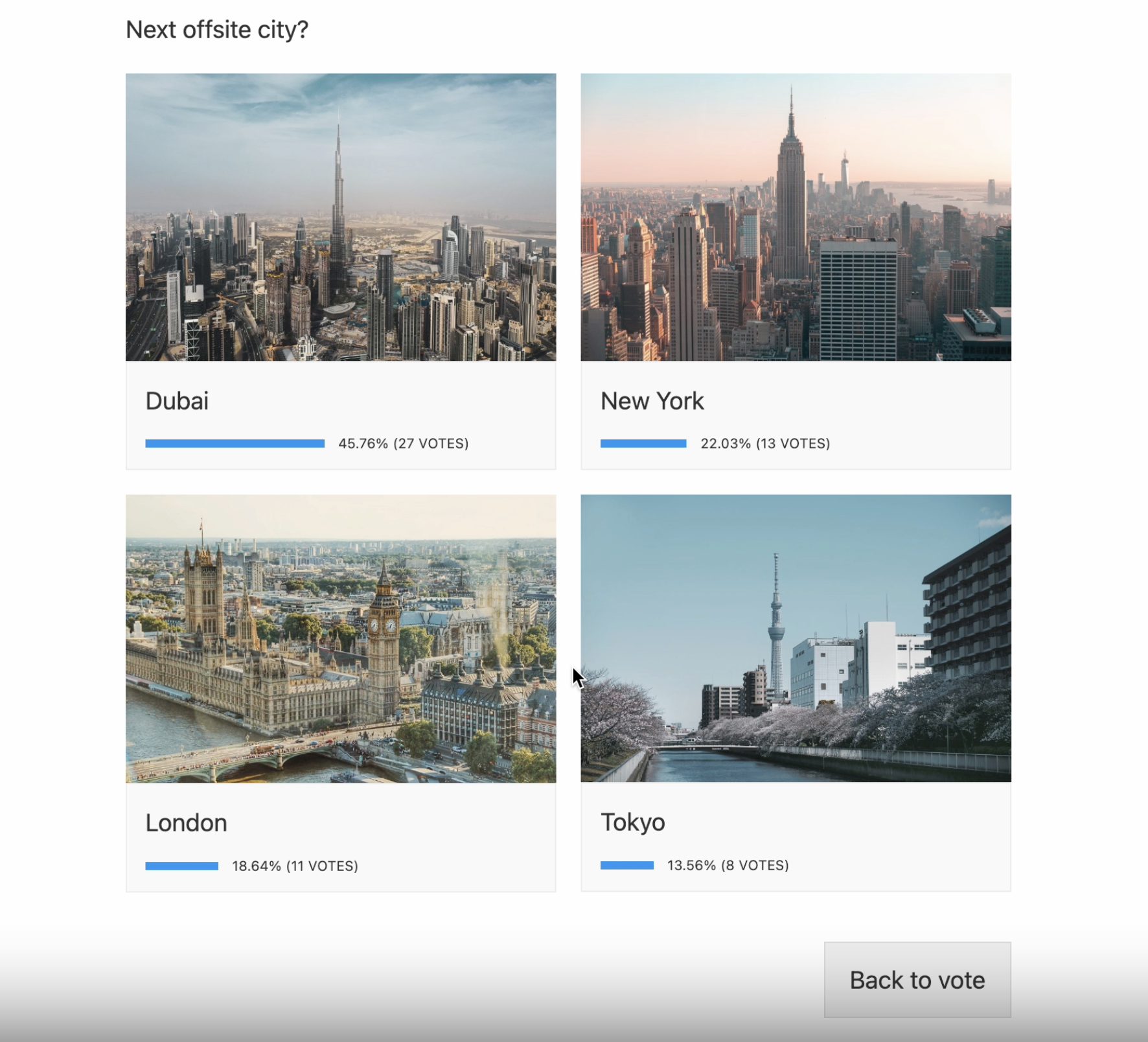 Take Your Email Polls to The Next Level#
Now that you've discovered the secret to including poll buttons in an email I'm sure you're excited to give it a try! If you're already using TotalPoll simply set it up, and you're good to go. But if you haven't experienced the magic of TotalPoll yet no worries, you can get it here: Download TotalPoll.
Whether you need assistance with installation, configuration or have any questions we've got your back! Don't hesitate to contact us and our dedicated support team will be ready to help you with any inquiries.
For resources make sure to explore our knowledge base. It's filled with tutorials, guides and useful tips that will help kickstart your journey into polling.