Imagine having a community of ambassadors promoting your brand and helping you build your marketing strategy… for free. No, it's not a gimmick, it's one of the best marketing tools entrepreneurs and business owners are using to lower their branding costs and build their sales funnel to attract new leads right now.
What is User Generated Content or UGC?#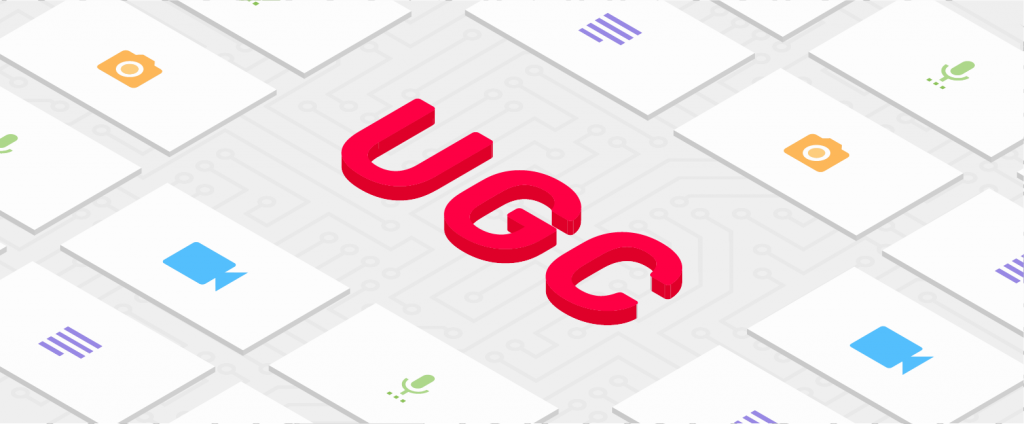 Since the mid-2000s user-generated content (also known as UGC) has been used by businesses to promote their brand and build a meaningful relationship with their customers. Simply put, UGC is any form of content that has been shared online by a user. It can be a photo submission, a video describing a life event, or even a product review.
The power of UGC is its ability to reproduce humanized content that creates an authentic message for your audience. It takes the marketer out of the equation and lets consumers create a sense of FOMO (fear of missing out) and inspire purchase decisions for other consumers. There's no right way to leverage UGC, but let's take a look at why brands are consistently using this promotional tactic in their marketing mix.
4 Reasons Why You Should Use Add UGC to your Marketing Mix#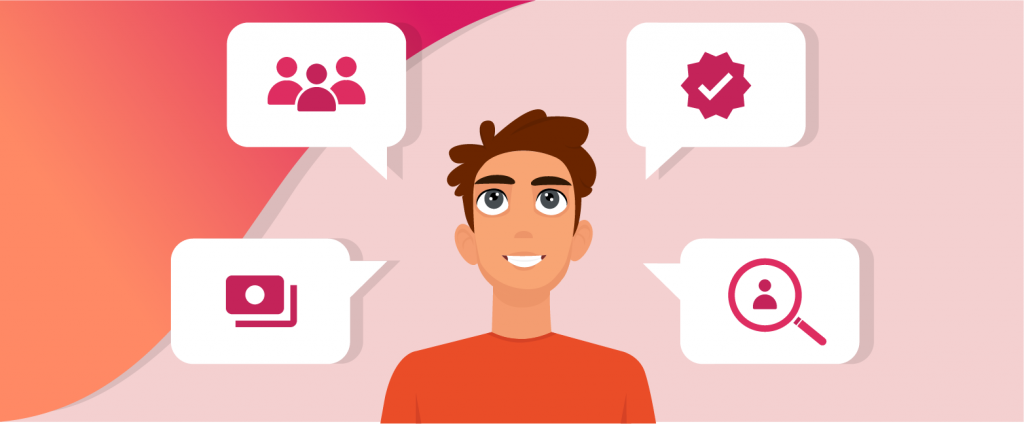 It's Cost-Effective#
It will give you an opportunity to save money and focus your paid marketing on traditional media (paid advertisements, influencer marketing, paid partnerships)
Buyers and consumers are not expecting payment for the content they create, they'll do it for free
You won't have to outsource content to third-parties or agencies
Boosted User Engagement#
Your customer will introduce your brand and products to their followers and community (again, for free)
It builds a strong brand relationship with customers and reaches potential leads during the consideration phase
Transparency & Authenticity#
Your brand will have referrals and testimonials as social proof for purchase
On-hand brands stories from a consumer's perspective
Reach & Audience#
Expansion into micro-markets or lookalike audiences
An opportunity to scale your brand's digital footprint by reaching your consumer's community and followers
One of the best forms to retrieve user-generated content is through a contest campaign via your WordPress website or social channels. You'll have to have a firm grasp of your audience and develop a few gift ideas to grab their interest. Regardless of what your niche is, developing a strategy is key to managing submissions and gathering valuable data from your audience. Let's take a look at how one of the most well-known brands developed their UGC content and expanded their campaigns internationally.
How to Run an Effective UGC Contest#
You may have heard the phrase "Shot with an iPhone X" or have seen it displayed on a billboard sporting a beautiful landscape portrait. In early 2019, Apple launched its "Shot on iPhone Challenge" campaign for the iPhone X, iPhone X Max, and iPhone Xr by inviting customers to flex their photography skills and submit their best shot on their website or social media platform. The winners would then be featured in Apple's international ad campaign across billboards, Apple stores, and other digital formats.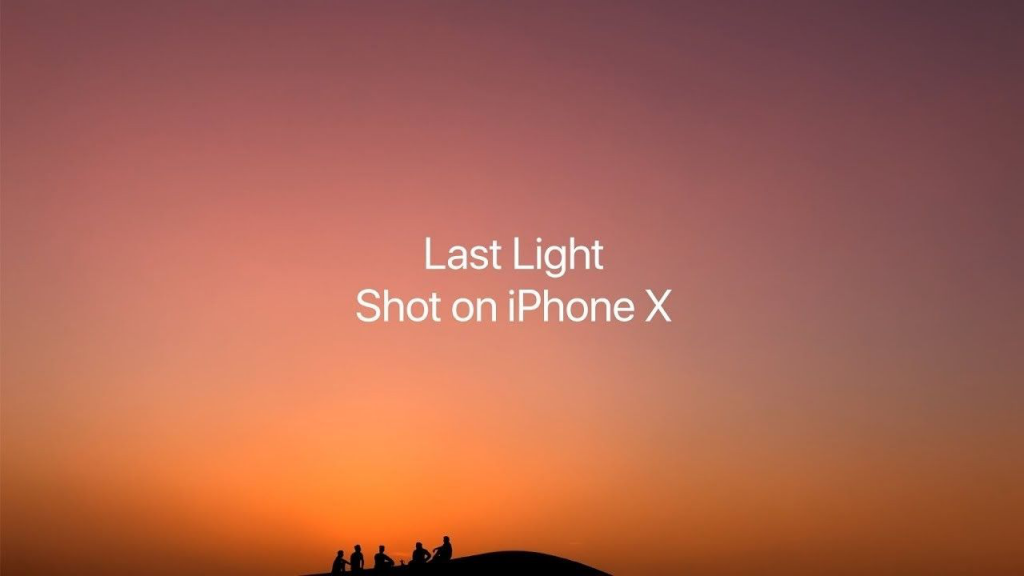 They used a contest style UGC campaign to incentivizes participation and create a plethora of user-generated photos for multiple campaigns. Apple began by creating contest rules explaining how to submit, how the review process would undergo, and when the winners would be announced. Here's a quick breakdown:
Duration: January 22nd - February 7th
Instructions: Submit your photo via social media using the hashtag #ShotOniPhone# or submit your photo to

[email protected]

using this format:  firstname_lastname_iphonemodel
Contest Process: Each photo will be reviewed by a panel of award-winning photographers and photographic journalists in which 10 photos will be chosen.
Announcement: February 26, 2019.
Prize: Ten winning photos will be featured on Apple Newsroom, Apple's Instagram channels, apple.com, in Apple retail stores, Apple WeChat, Apple Twitter accounts, Apple Weibo accounts, and billboards around the world.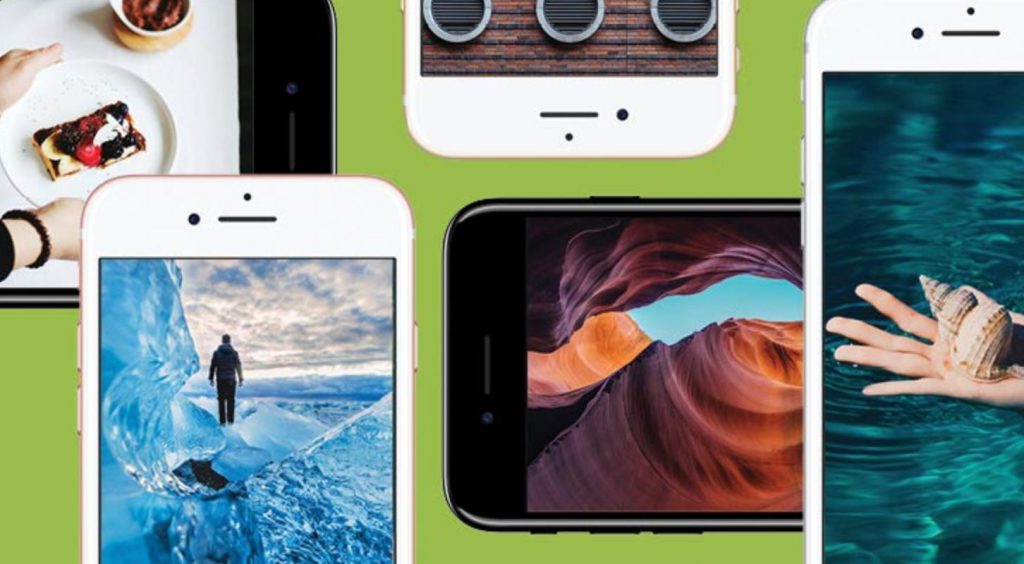 As with any new product going to market, there's always the question of, "Is it really that good?" But Apple used their audience as a focal point for its campaigns and were able to tap into personal narratives and emotional moments.
"Over half of Americans trust UGC more than what you publish, and 84% of Millennials say they're influenced by the UGC you share on your own website."
With over 10,000+ submissions to their site and social channels, Apple was able to add UGC to its international ad campaigns and expand into other forms of content like videos, blog posts, and user forums. You can view a few Apple campaigns on YouTube.
But don't worry, you don't have to be the most well-known tech company to build your UGC campaign. By developing a strategy and implementing a few quick tools, you can leverage your audience and start collecting authentic content that will build long-lasting customer loyalty.
TotalContest Contest Plugin for WordPress#
TotalContest is the perfect contest plugin for WordPress to start generating UGC swiftly. Its expansive options allow you to collect different forms of UGC (photos, videos, text, audio, and more) while using built-in design features to make your content look professional. Let's take a quick look at how to set up a photo contest using TotalContest.
Create New Contest#

After you've installed the plugin, head to your WordPress dashboard, and select "create contest." Like every post in WordPress, your contest must have a title that will be used in contest listings and page titles. For our example, we'll use "photo contest."
Contest Fields#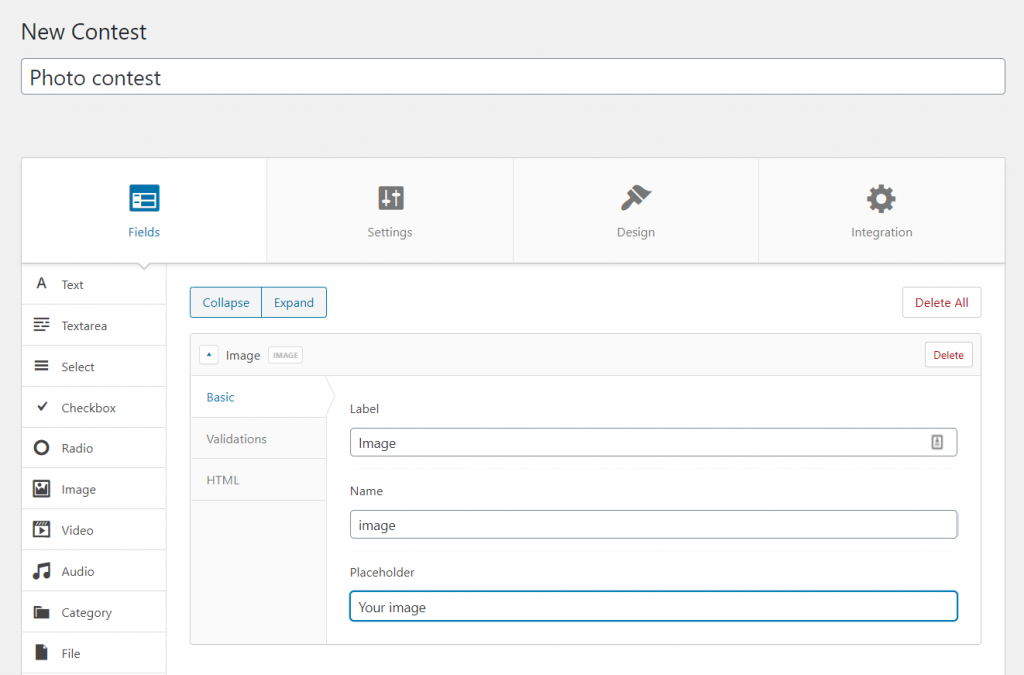 After setting the title, it's time to add fields to the contest. The fields are referring to the inputs your participants need to create a submission. Here, you can select what type of content your participants can submit by clicking one of the field types available. We'll choose images for this example:
TotalContest Interface#
TotalContest's interface makes it easy to navigate through the contest prep options. Here in the settings tab, you can set parameters to your contest by limiting a time period, membership, or quota for participants. You can then choose how you want to confirm the submission (email, notification, or on-page thank you), and lastly, use meta tags to boost your SEO.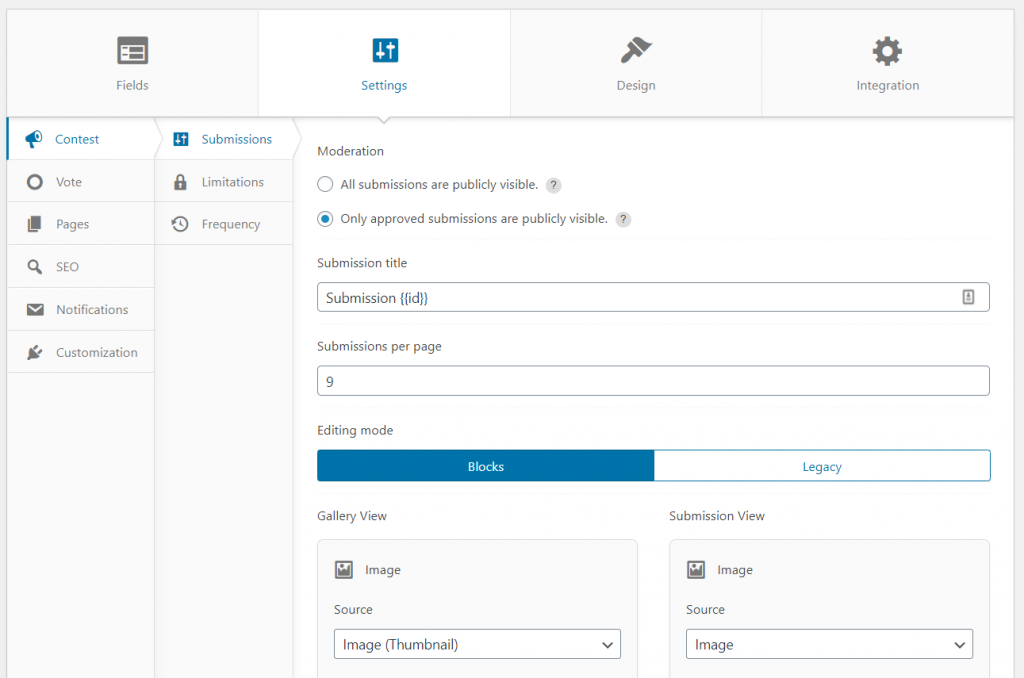 The design tab comes with a standard, three-tab user interface (participate, submission, terms) for participants to use. Our design layout has an easy-to-use dashboard and provides a basic customizable option to change font, color, layout, or text. With more than a few templates available, you can also request a customization, and our experts can design and develop tailored templates to suit your needs.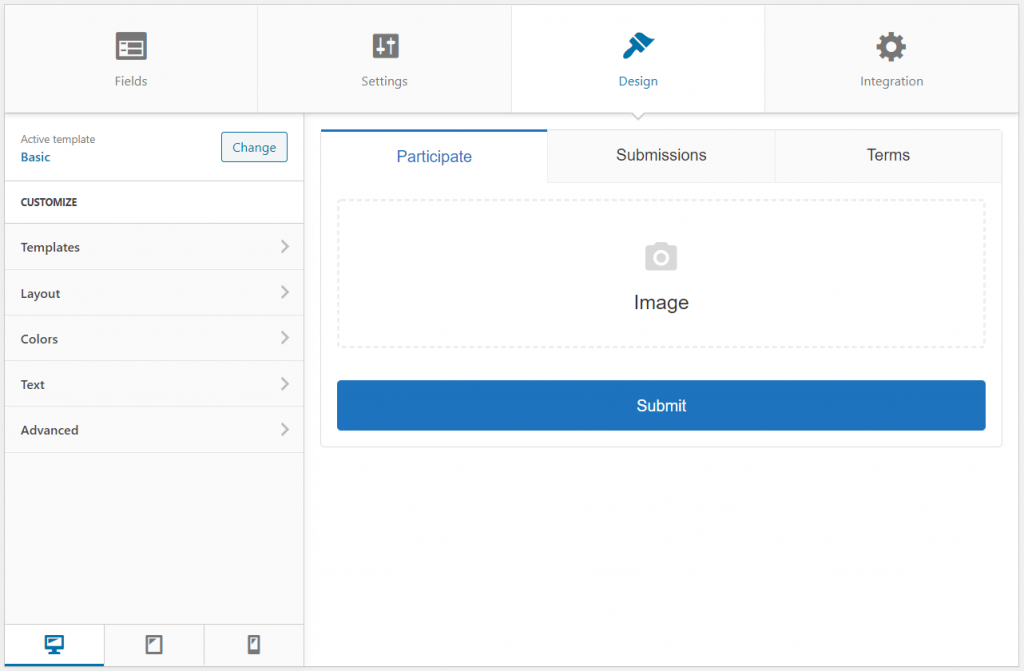 Last but not least, integration couldn't be easier. With a number of shortcode options, you can perfectly place TotalContest on any of your landing pages. You can also use it as a widget, link, embed (HTML), or directly in an email campaign.
To get started, check out the demo gallery or try the lite version of TotalContest to get a feel for our interface and see if it's right for your UGC campaign. Here, you'll have access to all of TotaContest's basic features and options so you can experience the plugin, first-hand, and mock-up quick trial contest.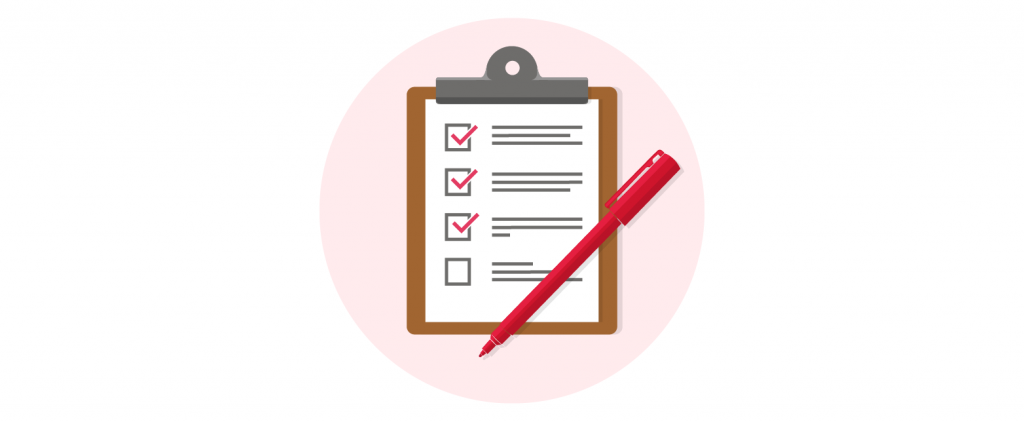 Additionally, we've sourced a few of our favorite articles to help you to kick off your next campaign and brainstorm a few ideas for UGC strategies.
Wrap up#
Regardless of how you choose to integrate TotalContest, always remember to keep your audience as a focus for UGC campaigns and dive deep into each of your customer buyer's journey. By leveraging UGC you'll save time in creating brand content and build a foundation with your audience that will expand across all of your marketing efforts.
To take a look at a few other tools WordPress owners are using today, head over to our products page for more plugins like TotalContest. We're always looking to expand our community, so don't forget to follow us on Twitter and share your thoughts via @TotalSuite!