Ever write a Yelp review? Give a few claps for your favorite Medium article? Maybe even read some web hosting reviews? Social proof, by all means, is not a new concept but has become as good as gold for digital brands to build authenticity and transparency with their customers.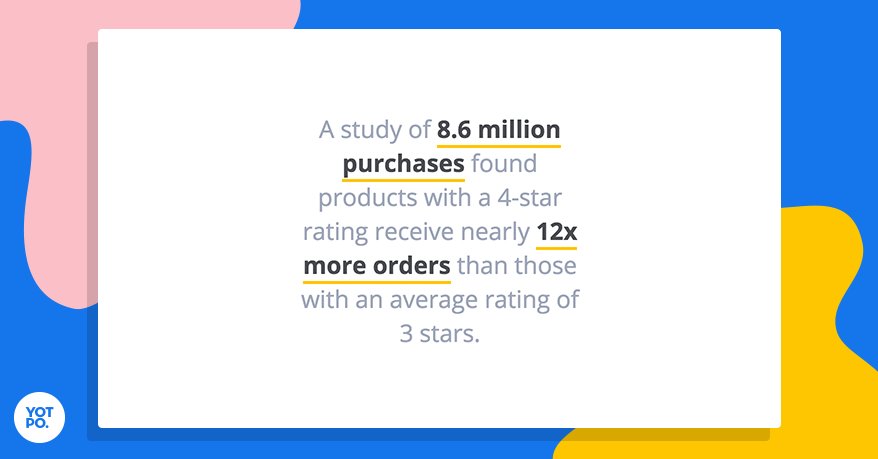 Throughout the digital landscape social proof appears in the form of a rating, review, or customer opinion. They help answer the big questions for consumers, "Which one should I buy?" and help businesses make decisions on their products, "Why are we only receiving 4 stars?"
"Yotpo eCommerce data has found that 41.5% of shoppers won't purchase from a site that doesn't offer insights into a customer mindset, such as product reviews, while 27.5% state lack of trust in the brand as an obstacle to converting."
Ratings and reviews can make or break brands, but they also serve as tools for brands to leverage UGC (User Generated Content), address issues, and or reward customers for their time and purchase.
Bad Press is Still Good Press#
At every end of the customer journey, there's a question that bares a happy or sad face, 1 or 5-star rating, or simply a thumbs-up or thumbs-down. Here, the consumer openly rates his or her purchase and can either reveal consumer pain points or product efficiency.
But however unpleasant or exceptional a review is, businesses can always use ratings and reviews as insights to improve their products or pivot their sales strategy. Let me explain.

Take Amazon's marketplace for instance. With every vendor on the planet competing to sell their products, customers are inclined to browse through product reviews by other consumers to justify their purchase.
Let's take a look at coffee makers listings through Amazon's marketplace and see how ratings and reviews differ among products. We're looking for a coffee maker that's easy to use and can make a great cup with exceptional taste. It should be small enough to fit on a kitchen counter and should at least have a 4-star rating.
I type "Coffee Maker" in Amazon's search bar and find the first 4 products all show a 4-star rating with 700-3,000 reviews. I love drip coffee, so I'll go with Bodum Pour-Over with 4.5 stars and 2,630 reviews. It meets all of our criteria and 90% of the reviews are positive.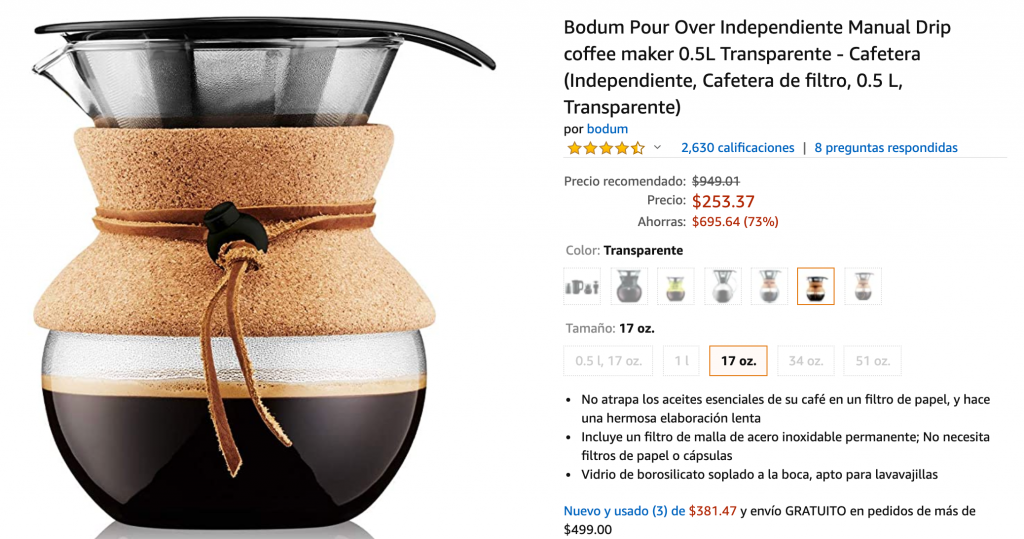 Now let's take a look at a few more just to make sure we're purchasing the right product. Below, I've found Goteo's Pour-Over with a similar design but with a 4-star rating and only 12 reviews.
It is also priced higher than Bodum's Pour-Over at $415.74 (Goteo at $549.99) and doesn't offer options in regards to the size of the pitcher. One review of Goteo's Pour-Over even suggests the first batch was watered down and lacked strong coffee flavor.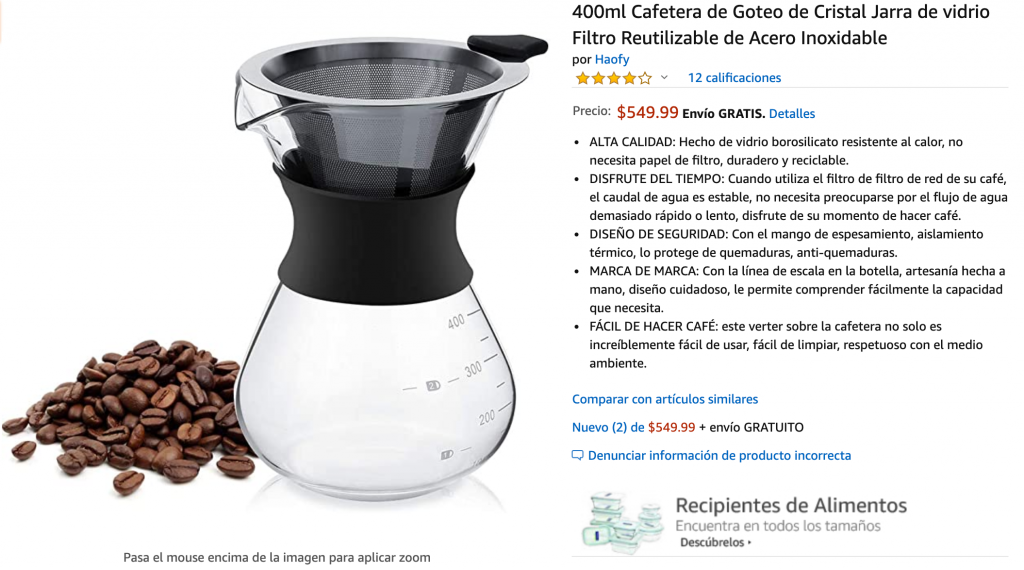 As we inch closer to our final purchase, we can take a look at both products and see how they have similar design features but most would be inclined to purchase Bodum's Pour-Over; due to the mass amount of social proof (2,600 reviews) and lower price point on Amazon's product page.
Although we choose Bodum's Pour-Over, the pain points on Goteo's product page serve as insights into the buyer's decision making process and arms their product team with empathetic standpoints.
Goteo's product team can ask questions like, "should we change the price point of the product?" or "Should we redesign the product to better compete in the market place?". However malicious the reviews or ratings maybe, they will always serve to improve products and gain positive social proof as more consumers leave reviews and rate purchases.
Amazon isn't the only marketplace where ratings and reviews help navigate the ubiquitous terrain of online shopping. Many WordPress sites are used today as eCommerce hubs, online restaurant chains, or at-home services - all yearning for their 5-star rating.
Collecting User Ratings on WordPress-Powered Websites#

Your product reviews coupled with a WordPress rating widget will create a powerful resource for you to understand your customers and products in the market. TotalRating is a free WordPress rating plugin that can help you generate social proof content (more on this later) and gauge customer satisfaction along with brand relations.
Improve Your Search Engine Results Appearance Using Structured Data#

TotalRating can help implement structured data throughout your WordPress product pages and display ratings on search engine queries (Don't worry we're not going to get too technical here).
Structured data is a way to implement code (via the TotalRating widget) that makes it easier for search engines to crawl, organize, and display your content.
Ratings fall under the category of aggregated data and will display as metadata for online shoppers, boosting your SEO, and increasing potential leads to your WordPress site.
Implement a Social Marketing Tool#
Online shoppers are impervious to advertisements and pop-ups, which makes TotalRating a perfect tool in your marketing efforts.
By creating a transparent and unbiased third party between your brand and customers, shoppers can look to a community of consumers to ease their buyer's anxiety; thus building trust and establishing brand ownerships for every product or service you offer.
"Consumers don't trust marketing and advertising anymore. Even digital advertising suffers, as global click-through rates of ads across all formats and placements are at a dismal 0.05%, which amounts to 5 clicks per 10,000 impressions. That's why brand differentiation is necessary, and customer reviews are more important than ever."
Start Collecting and Analyzing Ratings in No Time#
Starting with TotalRating's intuitive editor, you have the option to adjust presets for ratings (Faces, Stars, Thumbs) and placement (Below or Above) for the content of your choosing. Here you can also set user behaviors to display results or hide results if need be.
TotalRating is highly customizable through its design editor. Here you can add features to match your branding style guide while implementing color configuration, size, and spacing.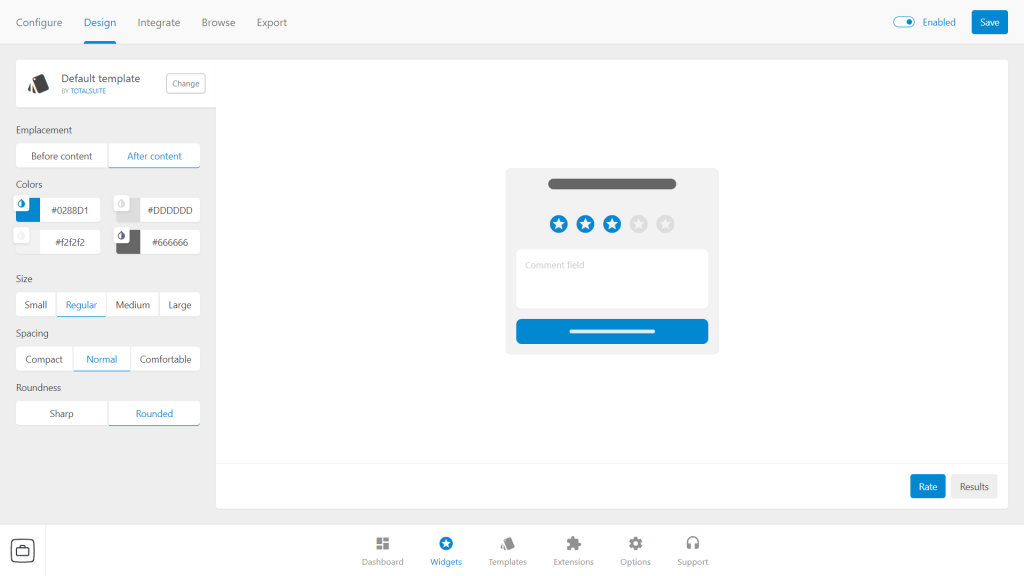 Through TotalRating's dashboard, you can easily organize and analyze your data to make quantitative decisions for your business. Quickly tap into insights along the customer's journey to address pain points and make any changes throughout your WordPress product pages.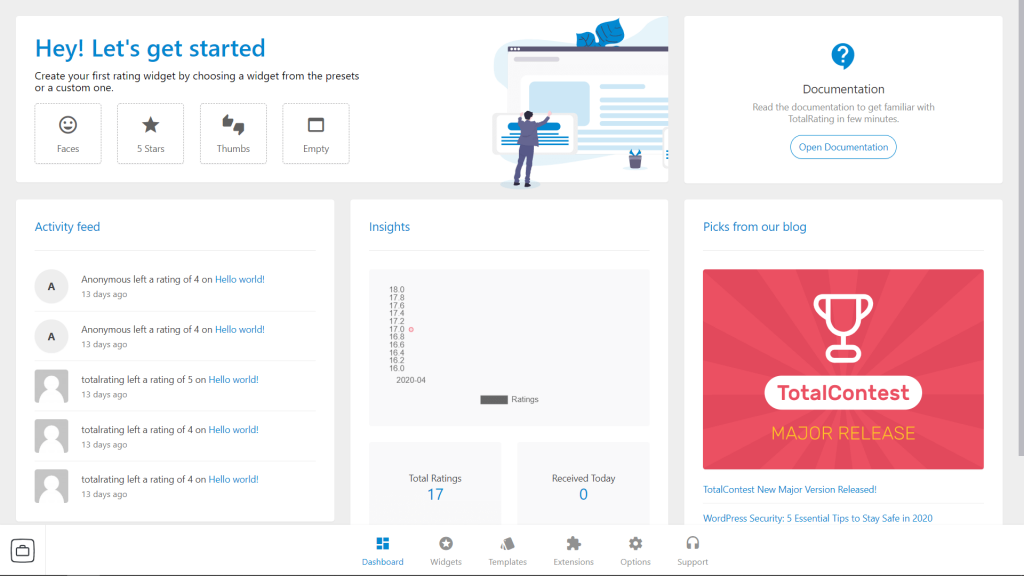 With this WordPress widget, you'll learn to identify trends in real-time and pinpoint gaps in your sales strategy. It's amazing how the ratings and reviews can improve your WordPress website and have dramatic impacts on your overall business.
TotalRating is one of the best tools to build authenticity around your brand and crowdsource ratings to boost social proof for your products and services. It doesn't matter if you're an eCommerce shop or offering a door-to-door service, reviews and ratings will help leverage a community of consumers to boost leads and ultimately increase your sales.
Well, what are you waiting for? Download TotalRating Rating Widget WordPress Plugin and start improving your conversion rate today!